COMPATIBLE ROBOT: THROWBOT® 2 ROBOT
The Carry and Tow Conversion Kit provides the Picatinny rail, CT style wheels, and RXL tail to reconfigure the Throwbot® 2 base robot into the Carry and Tow configuration. All necessary tools for performing the change are included in the Carry and Tow Conversion Kit.
The carry and tow configuration is designed to allow the system to transport up to 2 lbs (0.9 kg) mounted on top of the robot while towing up to 2 lbs (0.9 kg) behind. Some weight must be mounted on top of the robot in order to tow a full 2 lbs (0.9 kg), because wheel traction is increased with carried weight. When the Picatinny Rail and/or any payload is attached, the robot should not be thrown or dropped – this can result in damage or in the robot being unable to right itself if it lands upside-down.
Additional Product Information
RANGE
Outdoor Range (LOS): Tested to 450ft / 137m
Indoor Range (NLOS): Tested to 150ft / 45m
Drop Shock Resistance: 30ft / 9.1m
Throw Throw Resistance: 120ft / 36m
Max Obstacle Climb: 2in / 5cm
Speed: 1.8ft/s / 0.6m/s
Payload Capacity: NONE
RUN TIME
Typical: 110 minutes
Observation Mode: 160 minutes
IMAGE SENSOR
Type: Color
Field of View: 60 degrees
Frame Rate: 30fps
Water/Dust Protection: IP66, IP67
IR Illumination: 25ft / 7.62m
Audio: One-way, listening only
MECHANICAL SPECS
Weight: 1.3lbs / 0.6kg
Length: 8.3in / 21.1cm
Width: 7.9in / 20.1cm
Height: 4.5in / 11.4cm
PRODUCT IDENTIFICATION
This User Manual applies to the ReconRobotics® Throwbot® 2 robot and Operator Control Unit II (OCU II).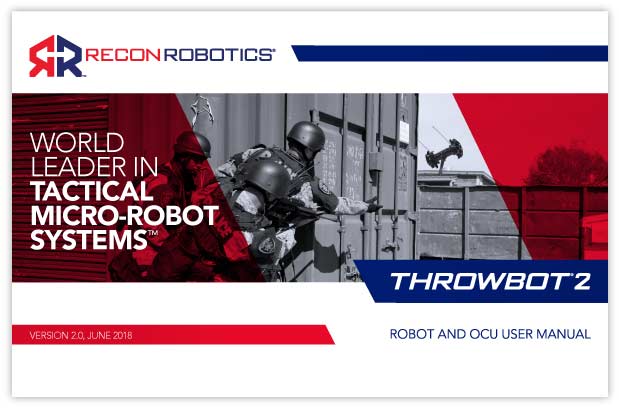 Schedule A Product Demo Today